The Wonder Bread Factory does more than sell bread, it tells a story. The year was 1940, and the family on S Street walked into the Wonder Bread Factory with bread on their brains and hunger in their stomachs. They waved to their neighbors, who were also there to buy bread and various Hostess Cake pastries, and they observed the beautiful brick holding up the building. After reading S Street Rising, a book that describes S Street's poorer and more violent days, I was curious, and even a little bit nervous, about what I would see when I visited the area myself.
I was definitely surprised. While I did see the same beautiful brick that families in the 1940s would have seen, I did not see any bread. I did not see families casually strolling into the factory; I saw young workers in business casual apparel entering a revamped building with graphic art on their walls, and various electronics in every corner. S Street has transformed into an urban masterpiece with colorful apartments, the Shaw-Howard Metro Stop seconds away, and several restaurants scattered around the surrounding area.
Additionally, the Wonder Bread Factory is now home to WeWork, a company dedicated to providing ambitious and inspiring entrepreneurs with office spaces. Over time, this building has developed into an "architectural gem successfully repurposed for 21st century economic needs and philosophical desires." As society has changed, this location and WeWork has done everything they can to stay ahead. In this essay, I discuss how The Wonder Bread Factory and WeWork building is a reflection of the society and job market of their respective time periods and how its transformation is representative of broader societal change.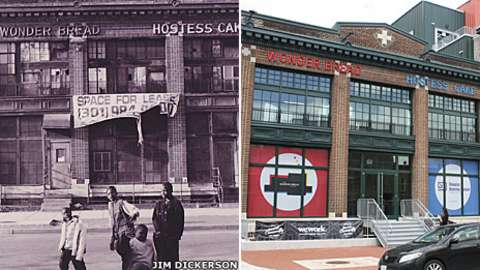 The Wonder Bread Factory symbolized the changing times on S Street in the 1900s and showcased the unity and sense of community within the people. S Street Rising by Ruben Castaneda tells the story of a broken Shaw neighborhood filled with prostitution, violence, and drugs (Castaneda). As I was reading, I imagined S Street as trash-filled, dirty, and sad. However, Ruben also described to readers the stories of New Community Church and Baldie. He told us how slowly but surely, the Shaw community connected over Jim's love for God and healing. Even Baldie, a notorious drug dealer, would respect Jim's mission and protect him and the church at all costs (Castaneda). In the beginning, S Street was described as broken and irreparable, but over time readers could feel hope begin to rise.
When I visited the street myself, I spoke to Keith, the man who currently lives in Baldie's house, and he told me joyful stories that took place in the Wonder Bread and Hostess Cake Factory, a contrast to the violence portrayed in the book. He revealed to me about his friends and workers tossing bread to each other from different areas of the bakery with smiles on their faces and flour on their hands. This was not the S Street I was anticipating. Even with the crime on the street, families still had time to grab some bread and pastries from the Wonder Bread Factory which was once considered a "staple of Washington households."  Individuals depended on the products and workers to be a constant in their lives; Dr. Sandy Berk shares, "'When I would take the streetcar to Griffith Stadium as a child from my NE neighborhood you knew you were getting close when you began to smell the bread and the bakeries. You could close your eyes and know when you were within three blocks.'" 
No matter how bad their lives or the street was, they could always count on fresh, homemade bread. The factory was a safe space for the people on the street and they would find comfort in the food and each other. Castaneda depicted the area as drug-ridden and violent, but he failed to share with readers the happiness and sense of community the S Street citizens felt. The Wonder Bread Factory brought everyone together for one common goal: to eat some delicious bread.
Not only did The Wonder Bread Factory unify the street through its products, but it also accurately reflected the evolving demographics in DC and the area. In the 1900s, DC's demographics were constantly changing. According to Peter Tatian and Serena Lei, "in only two decades, the white population fell by over 300,000… DC became majority-black in the late 1950s." This is not only accurate of the district, but also in S Street and Shaw. Additionally, this trend continued, based on data from the US Census, approximately 82% of the area was black while only 8% were white in 2000. As we can infer from the data, Shaw remained relatively consistent demographically for approximately forty-years. Families chose to stay despite the crime due to financial issues or what I believe was an attachment to the neighborhood they have watched grow their whole lives. Also, the area itself did not change much economically during this period, which gave residents no reason to leave either. However, in the late 1980's and 90's, Shaw began to change.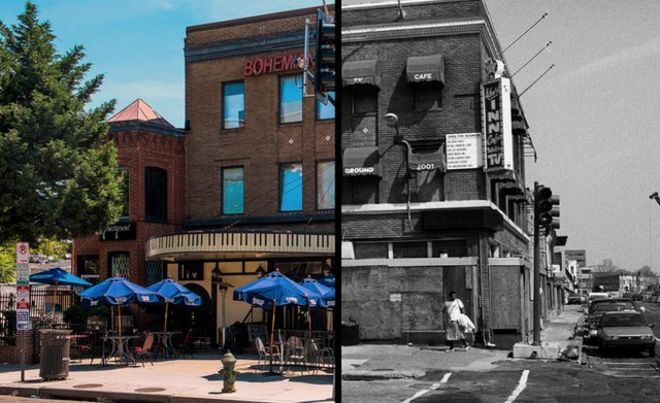 It all began when The Wonder Bread Factory shut down in the 1980's, and the building remained abandoned until it was purchased in 1997. In addition, the Shaw-Howard University Metro Station opened in 1991, allowing more individuals to enter the area and cause an increase of tourism and population. Also, 5,134 housing units were built in Shaw in the 2000s compared to 7,013 units that were established in 1939 or earlier. As a result, almost all of the units built in the early 90s were either replaced or expanded with the newer houses. The families and people who grew up in S Street were no longer surrounded by familiar spaces and scenes. The people and buildings around them were changing and the area was becoming more desirable for millennials and corporations. In 2010, the US Census shows that 33.1% of the population in Shaw were white, a 25.1% increase compared to 2000, while the black population decreased to 51.7%. The black population went from a majority to nearly half and S Street was unrecognizable. The Wonder Bread Factory closing and repurchasing sparked a movement. When the Wonder Bread Factory was open, it was representative of the demographics and community.  While it was abandoned, the area was evolving, and now the new owners, WeWork, showcase the current and future changes. Regardless of what the citizens may have wanted, there was no escaping renewing the street. However, as The Wonder Bread Factory shows, you can not escape the past. During reconstruction, the brick, Hostess Cake, and Wonder Bread signs all remained the same. They will always be reminders of the history of the city, and while it has changed exponentially, the history and memories they signify for many will never be taken from them.
The WeWork building represents the influx of millennials into the evolving job force and in DC. As the country itself has been changing demographically, the workforce and businesses have been evolving with it. Businesses are not looking for the same skills and jobs that they did historically. The time for goods-making jobs has passed, and 86% of jobs in the United States today are based on offering services. Not only are the type of desirable careers changing, but the skills required by businesses are arguably more challenging. Low-skill based jobs are no longer increasing as rapidly, employment growth "was much higher among jobs that require average or above average social skills (83%)." However, these abilities are not typically taught in classrooms, capabilities "such as interpersonal, management and communication skills, and those that require higher levels of analytical skills (77%), such as critical thinking and computer skills" are exactly what employers are looking for. As a result, the transition of The Wonder Bread Factory into WeWork was exactly what the job market reflects.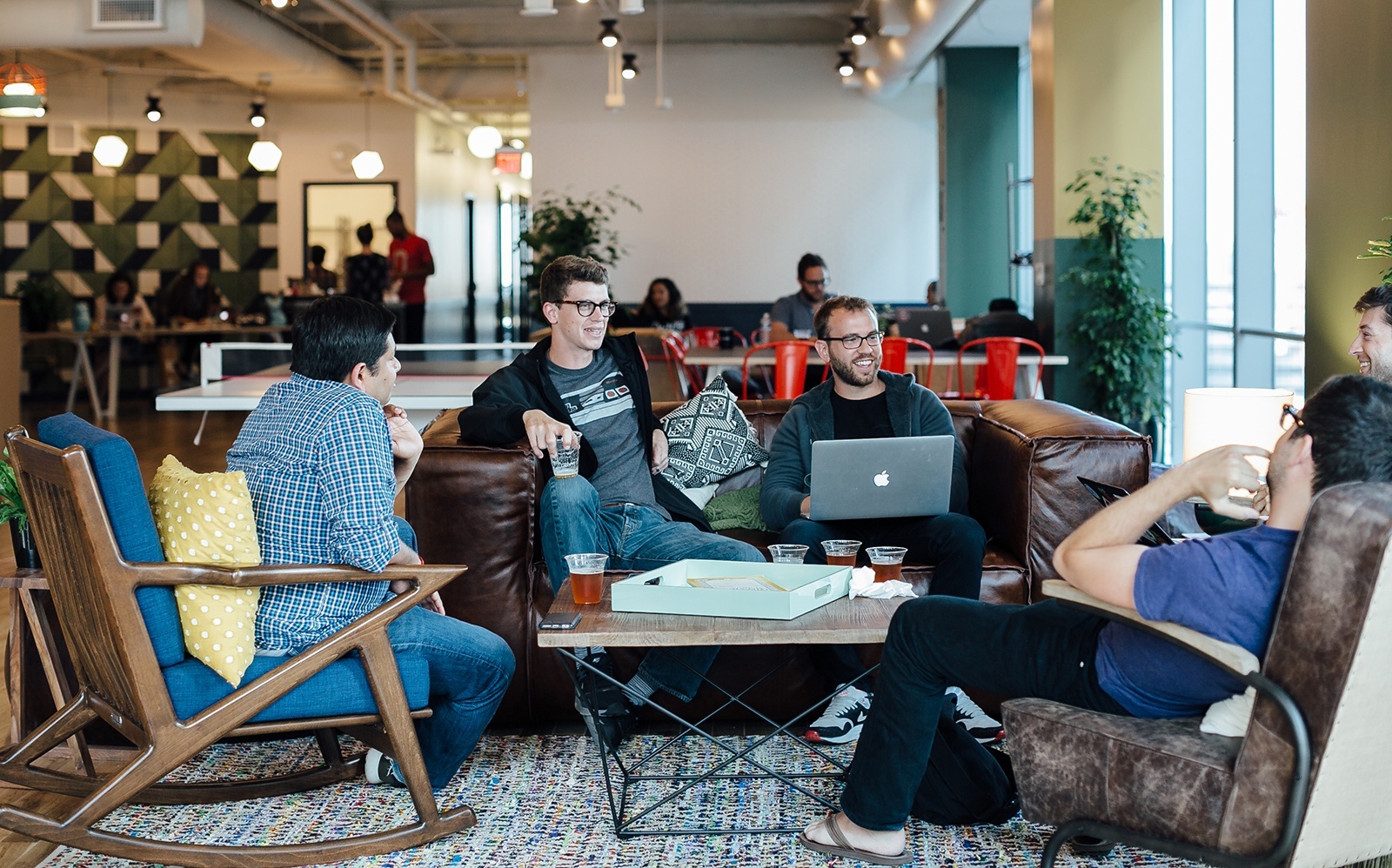 The Wonder Bread Factory was centered on making bread and providing goods, the exact industry that is now dying out. On the other hand, WeWork caters to entrepreneurs and freelancers, the precise career choices that millennials are attracted to and striving in. To explain, WeWork sells office spaces in their various buildings across the world. However, they are not your traditional spaces, they are filled with twenty-first century graphic art designs and structures — the layout many millennials dream of. Despite the myth that millennials are "lazy and entitled," they are actually succeeding in the workforce more than ever before, and they believe now is the time to start their own businesses. WeWork recognized the "lack of creative space and creative environments" in DC, and set up shop on S Street, just in time for the young adults that are driving up DC's population growth. WeWork has taken into consideration the evolving job force and skills, and they cater to the needs of the clients they believe their business model attracts. WeWork recognized that "the old business model is dead," as Gary Mendel, the manager of WeWork in the renovated Wonder Bread Factory stated. Their consumers want easy access to public transportation, delicious restaurants nearby, full internet access and other forms of technology, and the potential to make connections with other freelancers. WeWork provides all of this and more. They have successfully established the perfect model and plan for the twenty-first century.
There is no aspect of WeWork's corporation that is not thought of and considered beforehand, and they are focused on adapting to cultural needs and on anticipating their changes before they even occur. WeWork's mission statement opens up onto their page and immediately sets the tone for their business and goals. It states, "To create a world where people work to make a life, not just a living." As previously stated, WeWork's goal is to appeal to millennials. WeWork has recognized the changing demographics and skills in the business industry and they are capitalizing on it. According to Andrew Rice from Bloomberg, "WeWork has cast itself as a new kind of workplace for the post-recession labor force and a generation that has never known a cubicle. It aspires to make your job a place you never want to quit." People, especially younger generations, crave to be inspired and challenged. Additionally, not only have millennials "become the biggest population of workers" but according to data they also choose excitement and work ethic over money. These are the perfect workers for WeWork's pro-entrepreneur business model. Millennials want to challenge themselves. They want to make a difference in the world, and there is no better place to start the change than at a corporation that encourages their workers to "Be persistent and knock down walls- literally if you have to. You have our permission." 
In addition to WeWork catering to the changing workforce, they are also "building a community of creators" who inspire each other as well as the company itself. There is no other office space building where people can go to work every day with "lawyers, nonprofits, movie producers, political consultants, and a beef jerky brand." Despite how different these jobs are, they have one thing in common: they want to belong to something. One WeWork customer states he has "200 business cards in a zip-lock bag since he started going to WeWork a few months ago." These individuals go to work every day to do what they love and network with people who are just as passionate as they are. Together, they build their own community. Furthermore, it's easy to be inspired at a building that is purposely designed to be as efficient as possible. According to Margaret Rhodes, "the layout of shared desks, the number of phones, the position of a given armchair—none of this is arbitrary." There is not a single thing the architects and creators did not think of when designing these office spaces. Every detail is chosen meticulously and with their clientele in mind. Most importantly, all the choices the company makes are for the benefit of their current and potential clients. In order for WeWork to continue succeeding, they can not stop establishing their own separate communities where people are happy and inspired.
As I did my research on the WeWork corporation and on the Wonder Bread Factory's history, there were two things that stuck with me. First, is this quote by WeWork co-founder Miguel McKelvey:
Because as we all know sitting in this room, the world has changed completely. All these buildings that we look at, towers which are full of these soul-crushing acoustic ceilings, and crappy gray carpets, and draining environments with fluorescent lights—like, no one wants to work that way anymore. … It has nothing to do with the economy. It has nothing to do with anything other than humanity.
WeWork wanted to create a much-needed community with modern office spaces that take advantage of all the twenty-first century has to offer. Their clients "network at weekly bagel-and-mimosa parties," and "job referrals are made over the wagging tails of members' dogs." This is not an old and outdated company. One of WeWork's first investors stated, "Adam [WeWork co-founder] understood in a very serious way that we are in a new culture… I found it extraordinarily creative and original after being in this business for God knows how many years." WeWork recognizes the importance of establishing communities, but they understand how people and companies need to adapt to societal changes or they will get lost in the past and no growth will be made. The second thing that has stuck with me was the talk Keith and I had the first time I visited The Wonder Bread Factory. Keith mentioned how the days of drugs and violence are long gone now and the location has certainly improved, but he emphasized that he felt something was missing. He struggled to expand on it further. I believe that Keith and other members of the street who have lived there for years, have not fully accepted the changes in the area. There are new stores, apartments, businesses, and people, but none of these developments can replace the old memories they all had. They have all personally remained the same, but their surroundings are different. Their Wonder Bread Factory, or community hub, is gone and replaced with a new community filled with young entrepreneurs aching to make a difference and alter even more of the world they know. The reality is, society, the job force, and even the skills workers need, are changing. People and companies like WeWork have accepted this and are taking advantage of this new culture. However, some individuals are still holding to the past and do not want to let go of places like the Wonder Bread Factory and the ways things used to be. There is no right or wrong answer, but people do need to understand that societal and cultural changes will not wait for anyone. Every individual will eventually have to make their own choice: do you fall behind or become a part of the revolution?