In his Federal and Local Officials Celebrate Construction Kickoff For Channing E. Phillips Homes At Shaw/Howard University Metro, author Chris Douthat discusses the impact of Channing E. Phillips Homes for lower income residents. The Channing E. Phillips Homes, located in the 1700 block of 7th street NW, is a subsidized apartment complex located near the Shaw-Howard Metro station. Ultimately, Douthat believes having the Channing E. Phillips Homes in place is beneficial for 7th street and is much needed for the community; he argues this belief through the use of examples such as statements from government officials. As such, having the Channing E. Phillips as part of the community is valuable for the low-income and rising community. Named after the late congressional candidate and civil rights leader Channing E. Phillips, the housing complex sponsored by the "Westmoreland Congregational United Church of Christ" is eight stories high and has over 100 affordable housing units. Through Douthat's extensive history background on the sponsors for the subsidized housing complexes and collected statements from D.C. officials, he tries to argue that Channing E. Phillips will improve the community.
The Channing E. Phillips Homes, were recently added to the Shaw-Howard Community last fall. The apartments are available to those who make about 60 percent of the area median income, which is about $65,000 for a family of four. The Westmoreland Congregational United Church of Christ and Lincoln Congregational UCC, both church organizations collaborated to renovate the establishment. The 1700 block of 7th street NW was formerly known for holding some of the highest Shaw-Howard crime rates. As well, this location was the former home of "John's Place", my primary focus during my trip to Shaw-Howard. "John's Place" was a nightclub located in the 1700 block of 7th street NW and was shut down almost a decade ago due to a shooting within the club. The specific location of this former club is varies, but significant changes were made within the neighborhood it formerly resided in. Although, there is a lack of evidence of the club existing, there are very few articles that report incidents within the club such as shootings. Newer facilities such as the local convenience store Elbo Market, Channing E. Phillips Homes, non-subsidized apartment complexes, and the Watha T. Daniel library were added to the neighborhood within the last decade. Ultimately, these new facilities became noteworthy aspects of the community and have altered the appearance of 7th street.
Model image of the Channing E. Phillips building
Douthat's article discusses how the Westmoreland Congregational United Church of Christ and Lincoln Congregational Temple UCC sponsors have had a previous history dating back to the 1960s of improving local communities through affordable housing. With providing a brief history of the organizations, Douthat is trying to demonstrate how these church groups are supporting their community and will possibly bridge housing gaps. As well, he uses these church groups' previous history as examples  to demonstrate that the members have been active in supporting the community and could possibly provide the same results  within the apartment structures. Douthat states, "The development of this much needed housing is only possible due to the unique four-decade interracial partnership of two D.C.-area United Church of Christ (UCC) churches: Westmoreland Congregational UCC and Lincoln Congregational Temple UCC. The two churches became housing development partners to invest in the Shaw neighborhood in the late sixties when few others would. Their successful development of affordable housing dates back to 1969, when they broke ground on the Lincoln Westmoreland Apartments, a 108-unit, 10-story affordable apartment building now located next door to Channing E. Phillips Homes. The building is currently undergoing a renovation scheduled for completion later this year. Lincoln Westmoreland Housing subsequently provided land for the Shaw-Howard University Metro station infrastructure, which has improved access and economic opportunity for neighborhood residents". Through his use of ethos, Douthat also uses the extensive history to assure his confidence in the success of the Channing E. Phillips Homes. As well, incorporating this idea of an "economic opportunity" may grab readers attention more, due to the emphasis on currency and the relevance currency has on societal structures. 
Even though Douthat uses extensive history to confirm his beliefs of how helpful the Channing E. Phillips Homes will be and is, he uses statements from councilmen and representatives such as Polly Donaldson of Washington D.C. to confirm his idea. Polly Donaldson a DHCD Director within Douthat's article states, "Creating pathways to the middle class includes developing inclusive and diverse communities. To do this we must produce, protect and preserve more affordable housing for residents at all income levels. The Shaw neighborhood is rich in culture, so being able to revitalize these properties will not only allow the city to preserve the existing 108 affordable units and build 56 new affordable units for DC residents, but make it possible for the neighborhood to maintain its history and character. Projects like these are an example of the positive impact the Mayor's $100M commitment to affordable housing can have on the city, once those dollars are invested". Using Donaldson statement affirms Douthat's idea of Channing E. Phillips apartments being supportive of the 7th street community.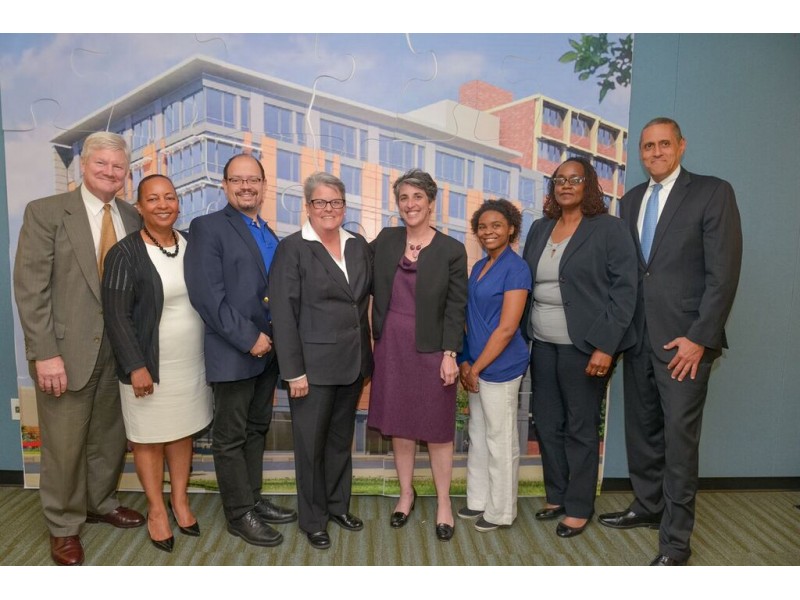 Local Officials celebrating the construction kickoff
Also, Marvin Turner director of HUD's area field office stated in Douthat's article "A project such as this is only possible when all of the pieces of the puzzle come together: location, vision, people of good will, financial commitments, great design and stellar execution," observed Lincoln Westmoreland Housing President David Jacobs. "It's gratifying that after all of the years of groundwork, these badly needed homes will soon be available to our neighbors who need them," he added. "This is a wonderful story of a faith-based initiative leveraging a government investment with private sector funds to produce transit-oriented affordable development".  Turner ultimately agrees with Douthat's philosophy that the Channing E. Phillips is and will be helping the community beyond.
Douthat initial target audience are readers of his article, specifically those who might be outside of the local Shaw-Howard community. He uses his article and extensive research to promote to readers that having a low-income housing apartment complex, specifically within a community with previous rising poverty rates will help residents keep afloat; especially during gentrification and rapid changes within a community. Through his pathos approach, he is gaining audience empathy and support; he already previously explains how majority of the 7th street community is in support of the low income housing complex.
Community meeting near the Channing E. Phillips facilities
Through the initiatives of the reputable church organizations, the history behind those groups, emphasis on economic opportunity, and the support of official government, Douthat provides a strong case for why the Channing E. Phillips apartment complexes is beneficial for the community. Ultimately Douthat believes the Channing E. Phillips apartment complex caters to local residents. Douthat exploits the community's previous poverty issues and having these new renovated apartment complexes will help fix the income and housing gap. Overall, having the Channing E. Phillips will help save low income residents from poverty, especially during renovations and gentrification changes.  
Works Cited
Douthat, Chris. "Federal And Local Officials Celebrate Construction Kickoff For Channing E. Phillips Homes At Shaw/Howard University Metro". Georgetown, DC Patch. February 27, 2017. http://patch.com/district-columbia/georgetown/federal-and-local-officials-celebrate-construction-kickoff-channing-e-phillips-homes-shawhoward.