In her New York Times article "The Corridor is Cool Again", Alicia Ault highlights one of her favorite neighborhoods in her hometown of DC. She presents the re emergence of the neighbourhood of U Street in a proud, and exciting fashion. In fact, I don't believe anyone can blame her. Imagine the last time you saw your hometown it was being desecrated, neglected and forgotten. Flashing back to modern times, the same place is booming with cultural diversity, nightlife, food, and music. It's the change of the century and of course you would want to tell everyone about it so they can share the same experience. Now, if you were to write about its brilliance, I believe that it is only appropriate to write in an epideictic oratory when describing this neighborhood.
From her website, Alicia Ault explains that she is a DC native who used to cover everything health care. From the Reagan to the Obama administration, Ault covered the beginnings of the AIDS crisis to the ascendance of the Affordable Care Act. However, in 2014 she explains that after eight years as a medical publisher she joined the freelancing community. In her freelancing career she tells us that she has written about things like the  Patagonia mountains and the Consumer electronics show in Las Vegas. Most of all, she explains that if she had a "holy trinity" to chose from it would be the three things she loves most: Food, Culture, and Music.
She truly found the perfect mix of her favorite elements when she realized the exciting re emergence of her hometown neighbourhood of U Street. To make things even more picturesque for her article, she had the pleasure of describing a place where she spent so many of her years in. Ault was literally there when it happened and revealed specifics about the street which no website or article could ever describe in such detail. Whether you wanted to know where to get 70s retro oversize sunglasses or a Saint & Angels belt with a Jesus-and-Mary diptych buckle, you knew Ault's information was reliable because it was coming from a native.
Not to mention, she did it with so much pride when she described that for a restaurant on U Street named Creme "there was a two-hour wait for the restaurant's upscale version of Southern dishes like shrimp and grits(16$) or pork and beans (18$)." Basically explaining that even though there was a two hour wait, the restaurant served cheap dishes that were in fact so good that they even created the two hour wait in the first place. Beyond her numerous examples of U Street's food and clothing outlets, Ault also commented on the unusually vast art scene. From the western end to the eastern end of the remade neighbourhood of U Street, there were numerous works of polish art, local art, war-themed photography, and many more. Not only did she include the diversity of art, but as a side note she added that one of the galleries participated in the famous International Center for Photography in New York. Ault used the day-scene of U Street to subtly persuade tourists and  locals to visit this neighbourhood.
Using seemingly obvious techniques of logos, and ethos, Ault pulled the ordinary traveler closer to booking a ticket to DC in order to experience U Street's awesomeness. But Ault didn't only use the outlets and exhibits to attract her audience. She also quoted college kids, senior citizens, and former tourists on their views on this reincarnated street. A former DC resident, who moved to Philadelphia, had a revitalizing experience when he revisited his home town. Ault tells us that Phil Coleman, a forty-three year old, thought he got out on the wrong metro stop when he went to visit a friend on U Street.  To say the least, the former resident was astonished by the diverse crowd and multitude of things to do. Ault shows her audience that if something is so new and eye catching to a resident , it would be even more enjoyable to an ordinary tourist. She even shows her readers a totally different perspective of a young Georgetown graduate to incorporate and relate to the new generation of young people.  The 24 year-old alumni speaks to the relaxing, classy, and jazzy atmosphere that he feels when he goes out to U Street. With this Ault uses ethos in order to help readers from all ages relate to the experiences which are presented in her article.
Ault persuades tourists and travelers very well with all of her appeals to different aspects which elicit a sense of credibility. But, she does this with a passion which seems to eternal and the real rhetoric of her article is the fire which fuels this passion. Now, if we were to put ourselves into Ault's shoes, we could understand what this fire is and where it comes from. Well, if the riots and gentrification of U Street started in the late 80s and went into the late 90s, then Ault was only a teenager going into her mid 20s during these riots. She basically was taught not to go to the neighbourhood of U Street because of its crime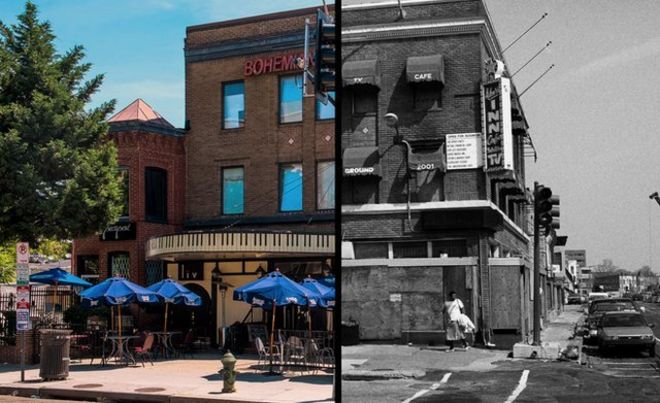 and danger.  Now, almost 15 years later, Ault returns to see the area of crime turn into a new and exciting utopia of new cultures. Something which was off-limits and not really safe in her childhood turned into the place to be in terms of her three favorite things: Food Culture and Music. Ault did what any regular, sentimental human being would do; she revisited the revolutionized neighbourhood and bathed in its luxuries and excitement. Not only did this reincarnated neighbourhood attract Ault and many more like her, but also it was representative of who raised her. The change of U Street showed the entire world that if DC as a whole can change such a trouble neighbourhood into such a utopia, together, DC can do anything. I believe that Ault caught on to this representative situation and used U Street to show where she really came from. She used the neighbourhood to take pride in her hometown. Her specific oratory was fueled by this love for her city and contributed to her epideictic tone. She wanted to appeal not to a group of people, but to everybody and show that U Street is not the only utopia present in DC. Of course, as all great journalists know, pride and the ability to express it is the key to writing a persuasive article.
We all understand Ault's excitement  to rush and put her love on paper, but the interesting thing is how she did it.  Since her article is from over a decade ago, there are new inspired journalists in the same section Ault wrote in on the New York Times; the section is called travel and it has thousands of new articles since Ault's. These new articles do not contain places as important as U Street, but they present their area in a more colorful way. These articles contain multimodal sources like picture, videos, audio clips, etc. For example, Lucas Petterson, a journalist for the New York Times uses a professional photographer, Darren S. Higgins, to create a beautiful image capturing the cool and hip of Baltimore.
The multimodal sources make the article more appealing to the new technological generation and therefore allow for more agreement and interest about the article. In contrast, Ault's article contains mostly plain text, without any pictures or alternate descriptions of U Street. This fact is especially interesting because of the time difference between the new and Ault's relatively old article. It does not necessarily speak to the effectiveness of the article, but it does create two different norms for two different generations. I would say that Ault's type of presentation of her article is representative of the time she wrote in therefore, all her audience needed was text. On the other hand, these new journalist's articles appeal to a much different audience. An audience which needs a more colorful and appealing stimulation of their senses in order to understand and grasp the content of the article. In general, Ault's audience is more old-fashioned and simple making them more easy to appeal to.
This explanation of  how these different journalists present their article does not necessarily show that Ault ineffectively presented U Street, it just shows that she did it in a different time to appeal to a different audience. Ault's article was extremely effective and representative of her rhetorical situation. Just like in modern times people have created youtube to present information on video, the early 21th century, which Ault wrote in, had newspapers and journals to present information. Ault's article wanted to express the utopia of U Street to all people willing to travel in 2006 by means of simple text which expressed love and pride of her hometown. She did it because she wanted to show everyone not only how U Street changed, but also because she wanted to she the effort her hometown of DC put into its neighbourhoods. Even if it Ault produced an article not appealing to the contemporary generation, I believe the rhetorical situation consistent with the time in which she wrote this article effectively expresses the importance of her content present in her article.
Bibliography:
Alicia Ault | Journalist and Adventuress. http://aliciaault.com/. Accessed 22 Apr. 2017.
Ault, Alicia. "U Street: The Corridor Is Cool Again." The New York Times, 14 Apr. 2006. NYTimes.com, http://www.nytimes.com/2006/04/14/travel/escapes/u-street-the-corridor-is-cool-again.html.
Peterson, Lucas. "Exploring Baltimore, a City With Style to Spare, on a Budget." The New York Times, 20 Apr. 2017. NYTimes.com, https://www.nytimes.com/2017/04/20/travel/baltimore-budget-travel-john-waters.html.
"Ben's Chili Bowl." Tiny Urban Kitchen, 6 May 2010, http://www.tinyurbankitchen.com/bens-chili-bowl/.
Bugs, Diva. "Wild Women Wear Red … Closing?!" Diva Bugs (TM), 28 Apr. 2008, http://divabugs.blogspot.com/2008/04/wild-women-wear-red-closing.html.