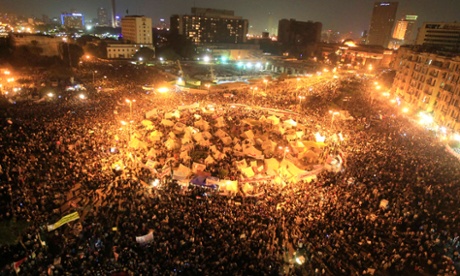 Amy Hawthorne, of the Atlantic Council's Rafik Hariri Center for the Middle East, posted a piece about the Obama Administration's messaging on the current situation in Egypt.
She states:
"A review of key statements [by the Obama Administration] on Egypt during the past month shows the wishful thinking shaping the discourse as the United States struggles to reconcile its declared support for democracy with the reality unfolding on the ground."
On March 24, State Department Deputy Spokesperson Marie Harf while discussing the situation in Egypt described politically motivated arrests, detentions, and convictions as "pretty significant bumps in the road here as we've tried to work with Egypt to move its democratic transition forward." In the same statement, she referred twice to a "democratic transition" and to "a country that's moving toward democracy."
Sequentially, on March 28, Deputy National Security Adviser Ben Rhodes said in remarks to the New York Times the United States was concerned about the "shockingly large" numbers of people sentenced to death, but continued to believe that stability in Egypt would come through "sticking to a democratic road map."
Hawthrone's article continues with multiple examples of mixed messaging by the Obama Administration, expressing disdain for acts of the current authority in Egypt, while simultaneously expressing hope for a democratic government.
These statements lead me to one major observation; that the current relationship between the US and Egypt – which can most eloquently be summed up by the Facebook status: "it's complicated" – is in fact complicated. The US is conflicted by the need to protect US national interests and the desire to fly the banner of democracy for all to emulate. This confusion is the reason for the convoluted PD strategy and indicative of the weak foreign policy in the MENA region.
Public diplomacy scholars Edward Comor and Hamilton Bean state that, "ethical public diplomacy should be pursued, i.e., a public diplomacy that embraces genuine (rather than contrived) dialogue." You cannot persuade anti-American Muslims by engaging in rhetoric that is not evident in diplomatic practice. By advocating for democracy and simultaneously supporting autocratic regimes, that violate the principles of which you promote, you lose all credibility.
If the current Administration wants to avoid making the same mistakes of the Bush Administration in the Middle East the United States will need to reorient its policy. Until then, the current rhetoric of the US will fail to resonate with strategic audiences, and the legitimacy of the USG will be as muddled as the situation in Egypt.
Wishful Thinking: The Obama Administration's Rhetoric on Democracy and Human Rights in Egypt