Argument:
Uzodinma, Iweala. "The gentrification of Washington DC: how my city changed its colors." The Guardian, 13 September 2016.
In his article author, Iweala Uzodima provides a deep set of history about the DC area and what it has meant for him as a member of an immigrant family. He adds to the discussion around the city's change and the racial implications that have been associated with its change. He shares some anecdotes about his experience growing up, about the role of money, racial divides, poverty, and the role of hard work in allowing him and his family to live in DC. Including some general history of DC as a whole, he finally provides the necessary context to enrich his own experience.
I plan to use this source as a primary argument for why it is important to take a look at DCs history and how it has applied to those who live there. In reference to 14th Street, NW this can shine some broader light on what has made the modern city life possible. I can add this to the discussion of whether or not the change has been for the better. Now I may weigh this one individual's viewpoint in relation to the modern presentation of the city, and DCs history to gain a complete understanding of the complexity that DC holds and why there is no one answer to the question.
Argument:
Fenston, Jacob. "Crack's Rapid Rise Brought Chaos To D.C." wamu.org,  27 January 2014.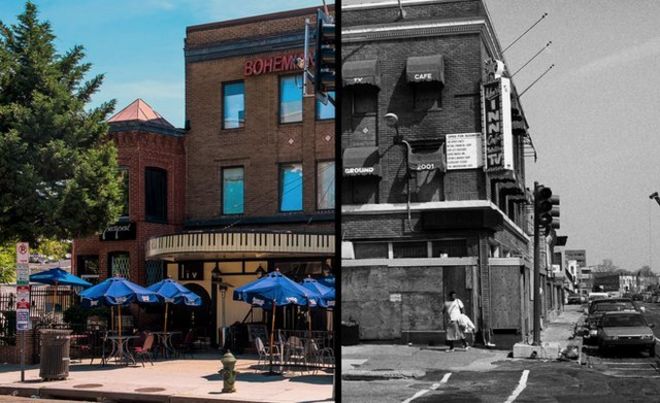 In "Crack's Rapid Rise Brought Chaos To D.C." Jacob Fenston provides a darker narrative about DC, based on the history of the 80s crack cocaine epidemic. As described, it was a "world…without options". Everyone seemed to be buying or selling drugs. This piece provides more historical background on how the arrest rates, crime, and property damage had greatly increased; and continued to add to the poverty in the area. In addition, this gets to how police crackdowns were only temporary "band-aids" on "cancer". In order for DC to reach a time of peace, there had to be an effective change in the form of economic revival and gentrification.
I plan to use this source as a reminder although DC may have undergone some potential racially motivated change, DC was also not in very good shape anyway due to the crack epidemic of the 1980s.This is important to the discussion of how 14th street NW has changed because as Michael Horsley has documented, the DC area as a whole may have been a sense of comfort for residents; it was not a very healthy place to live and very poor.